I color code the logs

ooo

Lowered weights, reps or sets

ooo

Upped weight, reps or sets

ooo

Pleasant surprise
REMINDER: I think that my maxHR is above Astrand's 220-age, but I still use that formula for the % since I don't know my exact maxHR and just want to compare one WO with another.

THURSDAY, August 7th 2008
14h50 PM WARM-UP Rowing
10 mins / AveHR 101 61%
WORKOUT Previous workout ~ Next workout WO 1
First Weights WO since January 7th!!! Doing WO 13 again, since my trainer Yan is on vacation for ths summer.
Program #13 (bis) Fat Loss / Yan Fontaine
sets and reps as written / tempo : CRER 3030 / rest 30secs
49 mins / AveHR 92 55% / MaxHR 142 86% / 253 cals / 55 % fat / 1 mins InZone (75%+)
1) Pulley Squats on Reebok Coreboard placed on 4" Step for height at Freedom Trainer
Squats tirés au Freedom Trainer sur Step et Reebok Coreboard
6 x 155 lbs / 6 x 200 lbs / 15 x 245 lbs
NB : Resistance at handle is 1/4 of the weight selected
2) Hip extension followed by knee flexion at low pulley, lying on the floor with heels on Swiss Balll /
Extension de la hanche et flexion du genou à la poulie basse et avec ballon Suisse
1 x 15 / 50 lbs
3) English to come /
Abduction de la hanche, debout, avec ballon contre le mur
1 x 15 ea side
4) English to come /
Adduction de la hanche, couchée avec ballon entre les genoux
1 x 15
5) Horizontal row at low pulley /
Rameur, un bras, poullie basse
1 x 12 ea side x 60 lbs
6) English to come /
Flexion Horizontale de l'épaule.. banc incliné
1 x 15 x DB 15s
I'm not sure how my left shoulder will like these (and some of the other stuff)
7) Militairy Press on Swiss Ball, one foot off the ground /
développé militaire assis sur ballon, 1 pied au sol
1 x 15 x DB 20s

8) Alternating biceps curls , standing on Bosu /
flexion du coude alterné, debout sur bosu, rond en bas
1 x 12ea x DB 15s
9) Triceps extensions on flat bench, Bar to the forehead /
ext du coude, barre au front sur banc plat
1 x 15 33 lbs
would have gone higher if it hadn't been my first WO in a while
10) Pulley Deadlifts on Reebok Coreboard placed on 4" Step for height at Freedom Trainer /
Extension lombaire au Freedom Trainer avec step ET Reebok (DLs)
1 x 6 x 170 / 1 x 15 x 200 lbs
NB : Resistance at handle is 1/4 of the weight selected
11) NOTE : add planks or something if I don't go to group fitness
4h00 PM CARDIO
60 mins / AveHR 129 78% / MaxHR 152 92% / 680 cals / 40 % fat / 35 mins InZone (75%+)

30 mins on Precor AMT 100i / Intervals Program, 2 mins resistance 20 "steps" - 2 mins 5 running stride
30 mins on Precor 556i / Cross country
I hadn't charged my .mp3 player's batteries.. so
planned STRETCHING
20 mins
DIET
Have to start again since my vacations were gastronomical!
BED AT 9h00 PM still Jet Lagged

FRIDAY, August 8th 2008
DAY OFF
For three weeks I've been marvelling at the age of Europe and now I'm watching the
opening ceremonies of the Bejing Olympics
planned BED AT 10h30 PM

SATURDAY, August 9th 2008
DAY OFF
Beijing Olympics on TV and upload vacation photos
BED AT 10h00 PM

SUNDAY, August 10th 2008
DAY OFF
Beijing Olympics on TV
Starting to feel that I'm getting over the Jet Lag from my trip. ! wow! that was long!
BED AT 10h30 PM

MONDAY, August 11th 2008
FIRST DAY BACK AT WORK
4h44 PM BUNS OF STEEL ~ GROUP FITNESS with Amélie Martin
50 mins+ / AveHR 130 78% / MaxHR 210 127% / 561 cals / 35 % fat / 30 mins InZone (75%+)
Finish late at work so arrive after the WU.. ouch! but it feels good to be back at the gym. I was at MaxHR 210 127% for about 10 seconds, I never know if it's my watch or me..
DIET
Cheese, wine and desert.. It's Gaby's bday tomorrow but we'll be at Salsa.. so celebrate tonight.
BED AT 11h30 PM Beijing Olympics on TV

TUESDAY, August 12th 2008
Happy bday my love!
ACHES AND PAINS
My left shoulder.. Have appointement with Physio Therapist Robert Daigneault
8h15 PM SALSA DANCE CLASS at Le Sodanse
60 mins
Two combinations!
BED AT 11h45 PM awake from 3h30 am to 5 am with my left mid-bac aching like around july 22nd..

WENESDAY, August 13th 2008
ACHES AND PAINS
My left shoulder.. hurt all day though I try to hide it. and take Tylénols..
BED AT 7h30 PM With 2 Robaxacet extra fort, and 2 more at 2 am!

THURSDAY, August 14th 2008
DAY OFF
ACHES AND PAINS
My left shoulder. I take 1 Robaxacet at 8 am and 1 at 2 PM. / 2 Novanaprox anti-inflammatoires at supper and then :
I'M SOOOOO DUMB! : an hour later I take 2 Robaxacet !!! spend 4 hours agonizing and having difficulty breathing!
BED AT 11h30 PM

FRIDAY, August 15th 2008 off to see what happens!
ACHES AND PAINS
Feeling much better
6h30 PM SALSA LADY'S STYLING DANCE CLASS at École de danse latines
90 mins
Cancelled, maybe it'll start next week or the week after!
BED AT 11h30 PM

SATURDAY, August 16th 2008
DAY OFF
BED AT 11h00 PM Watch Phelps win his 8th gold medal at the Beijing Olympics

SUNDAY, August 17th 2008
FRANCONIA NOTCH STATE PARK, New Hampshire, USA
Mounts Little Heystack, Lincoln and Lafayette
via the Franconia Ridge
With Gabriel, Philippe and Sylvain
Did the same trail last year, and the year before
This year : planned stop at SHINING ROCK STOP 30 mins a 0,4 miles extra on the UP Falling Waters Trail
NOTES :
1) If we invite Newcommers to Hiking a long trail, check the weight of their pacsac — a pre hike meeting would be even better.

2) Again, (I'd forgotten) There are pay-showers at the back of the Visitors' Center.
HIKING start 8h40 AM
WEIGHT OF PACSAC : ~18 lbs +
DENIVELATION 1,173 m. + Down and up Shining Rock ??
TOTAL LENGTH 15 km + Down and up Shining Rock 0,6 km
TOTAL TIME 9h45 But it's nice to have seen newcommers to hiking appreciate doing the hike so much.
TEMPERATURE : 10°C at top / Wind: hardly any wind except for Lafayette

UP Falling Waters Trail to Shining Rock /break / to past Little HeyStack to lunch
4h06 mins / 2911 calories / 35% fat / AveHR 131 79% / MaxHR 160 96% / 2h34 mins inZone (75%+)
forget to stop my watch at Shining Rock (about 25 mins)
Lunch STOP 27 mins
Franconia Ridge UP to Lincoln, DOWN and UP Lafayette and down to GREENLEAF HUT
2h56mins / 1627 calories / 50% fat / AveHR 115 69%/ MaxHR 154 93% / 44 mins inZone (75%+)
forget to stop my watch at the top of Lafayette (but I'm stopping alot to wait for some others)
GREENLEAF HUT 29mins
DOWN Old Bridle Path 2h16 mins / 975 calories / 65% fat / AveHR 101 61% / MaxHR 125 75% / 0 mins inZone (75%+)
ACHES AND PAINS I was waiting alot going up.. but my Right knee hurts all the way down and home. Ice it when I get home. I guess we all have our bad periods. It's ok by the next day.
DIET.
Restaurant in Littleton (2nd exit) Pizza :))

BED AT 00h30 AM


TUESDAY, August 19th 2008
Happy bday my love!
ACHES AND PAINS
I'm all good

Just oh so slightly feel the mountain in my quads. Gabriel is aching all over.. I wonder how the other guys are doing!
8h15 PM SALSA DANCE CLASS at Le Sodanse
60 mins le fouet
BED AT 10h45 PM

WEDNESDAY, August 20th 2008
5h30 PM CARDIO MILITAIRE ~ GROUP FITNESS with Amélie Martin
51 mins+ / AveHR 136 82% / MaxHR 188 113% / 641 cals / 30 % fat / 37 mins InZone (75%+)
Start my HR monitor after the short warm-up. We go outside for 42 minutes. First time outside the parcking lot LOL.. speed walking, jogging, high-knees, heels to ass, lunges, footwork, squats, and more. Interval training. ABS when we come inside.
planned BED AT 11h30 PM


FRIDAY, August 22nd 2008
ACHES AND PAINS
feeling good, but not as great as when I registered for the Congrès Tempsdanse ! LOL we'll see what happens.
6h30 PM SALSA LADY'S STYLING DANCE CLASS at École de danse latines
90 mins
Cancelled, again
BED AT 10h30 PM

SATURDAY, August 23rd 2008
Congrès Tempsdanses et entraînement 08
For trainers, instructors, kinesiologists and fitness specialists. (Fitness Convention)

Organized by ENERGIE CARDIO
Auberge des Seigneurs
St-Hyacinthe ( Québec )
Fitness is getting more popular every day and new trends are constantly emerging. That's why we wanted to offer you a great scope convention, hosted by the best lecturers from Canada, the United States, Europe, and the Middle East. This event was specifically designed for the instructor and the professional trainer conscious about the quality of its training and the safety of its clients.
We will offer more than 60 different workshops related to various fitness specialities and novelties.
Enjoy the convention !
Jennifer Pelletier, Julie le Gruiec & Karine Côté
Organisers
June 10th : I register The classes I chose are here below : I hope I get them, I registered on June 10th and am waiting for the answer
June 16th : I get registration confirmation by the mail. I get all my first choices.
8 h 00 to 9 h 15 101— Slave to the rythm — STEPS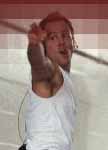 John Shehan London (UK) "And 1, 2, 3, 4, 5, 6, 7, 8,…" Sounds familiar ? Sounds boring ? Speed up, slow down, freeze frame and break a beat to add variety to an otherwise humdrum routine. Join John in this step class and learn how to use rhythm to free your choreography from the shackles of predictability.
Note : Good start. There is no real instruction, just a reptition of the routine sections. Quite advanced moves but I finish by getting most of them. But too late to get a chance to practice them. That's ok. we got them on paper.

1h06 mins / 918 calories / 25% fat / AveHR 145 87% / MaxHR 163 98% / 1h04 mins inZone
9 h 45 to 11 h 206— Shoulderstand Do's and Dont's — YOGA


Donna Read "Centre de Yoga" in Montréal, Québec In this workshop, we will go through a practice of poses that will get you ready for the queen of all asanas. We will then look at different ways of practicing and teaching this incredible beneficial pose that if taught properly can calm the mind and body more than you can imagine…
Note : Mostly theory, but I like the fact that I'll be transfering alot of what I learned to other fitness movements.
1h16 mins / 198 calories / 60% fat / AveHR 79 48% / MaxHR 95 57% / 0 mins inZone
11 h 15 to 12 h 15 Conférence — Nutrition et activité physique au féminin : comprendre et informer dietetist team The wide interest of women regarding health and nutrition is a known fact. However, are they sufficiently and well informed when comes time to apply the recommendations to their conditions and stage of life ? This conference on sporting nutrition and women will help you in your daily practice with your female clients.
Note : All theory and nothing very interesting.
12 h 15 to 13 h 15 LUNCH BREAK
13 h 15 to 14 h 30 303— Ultimate total gliding experience — GLIDING


Helen Vanderburg Calgary, Canada / past World Champion synchronized swimmer. Come experience the latest and greatest in total body training. Gliding turns traditional exercises into smooth, consistent, flowing patterns for unparalleled success. Using the Gliding discs, Helen will guide you through exercises for every major muscle group. She will transform classic exercise staples into Gliding motion. It is hard to believe an idea so simple, can produce such graceful power. Experience Gliding for yourself and see how every exercise is enhanced with the Gliding discs.
Note : It's interesting to se how old exercises can have a new life with these discs. I did quite well with them. and bought a pair to take home. got a list of the exercises we did.
1h03 mins / 708 calories / 40% fat / AveHR 128 77% / MaxHR 154 93% / 37 mins inZone
15 h 00 to 16 h 30 405— Entraînement en dépense calorique (Calorie expenditure training)


Jean-Denis Thomson B.Sc Kinésiologie, Montréal, Québec This theorical workshop demystifies training strategies for caloric output and obstacles that come up during healthy weight lost. In addition, this workshop will cover the principles and methods of muscular and cardiovascular training used during a caloric output training and you will learn how to adapt your approach to your customers' weight loss objectives.
Note : Not much that's new, but well presented and good review. I don't agree with everyting he said though. (nutrition-wise, mostly, but experts don't always agree either.)
16 h 45 to 18 h 00 505— Les besoins du client sportif (Sports cleintel's needs)


Marc-Olivier Dagenais Marc has done doctoral studies in sports psychology, has a Master's Degree in Coaching Sciences in addition to being a NSCA Certified Strength and Conditioning Specialist (CSCS), Registered Kinesiologist, Can-Fit-Pro PTS and NCCP Level IV Certified Coach. Do you know how to develop a sport specific training program ? Lying down on a bench and pressing a lot of weight does very little to improve one's performance on the court, field or ice ! Athletic performance is enhanced by training the movements, not the muscles. Come review the principle of specificity and find out how to plan a highly successful sport specific training program to develop functional strength, power, speed, agility and quickness. In this session, your will learn the secrets to bring your clients "game" to the next level !
Note : Since Bompa's "Periodization for sports" is my bible.. and Musnick and Pierce's "Conditioning for Outdoor Fitness" has a impressive amout of sports-related-functional exercises, what I got out of this conference is mostly confidance that I alrady know what I'm doing. Good motivation though to RE-read the books.

SUNDAY, August 24th 2008
Congrès Tempsdanses et entraînement08
Organized by ENERGIE CARDIO
Continued...
7 h 30 to 8 h 45 602 — Bâton Exercice La nouveauté de l'heure — STICK


Jennifer Pelletier B.Sc Kinésiologie, Muscular and cardiovascular training in one, this workshop will teach you a vast number of muscular exercises to add to your aerobics routine to create an exercise stick class. At the end of this workshop, you will be hooked on this new trend and you will want to teach it too.
Note : Interesting, but I'm really not a morning person! Jennifer is 26 weeks pregnant, and sets a good example that a pregnant girl can still move around.
50 mins / 594 calories / 35% fat / AveHR 133 80% / MaxHR 151 91% / 41 mins inZone
9 h 15 to 10 h 30 702 — Active Sport Conditionning — AEROBICS


Darin Dieterich Germany. Active Sports Conditioning is an intensive 30 or 60-minute cardio interval or circuit workout that challenges the body and the mind. Active sport moves and games keep the brain fully challenged without using overwhelming choreography. The added effect of teamwork and task-oriented activity keeps the class concept fresh and interesting for all levels. This class format caters to those new participants that want to start with activity that is familiar and effective. Everyone knows how to do a jumping jack, but many new exercisers don't know a grapevine from a step touch.
Note : He's crazy, but it was lots of fun and a good workout.. Some loved him, some didn't like him at all.
46 mins / 567 calories / 30% fat / AveHR 136 82% / MaxHR 194 117% / 38 mins inZone
11 h 00 to 12 h 15 804 — Are you in the zone ? Heart rate focused riding — SPINNING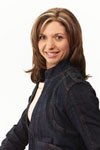 Laura Warf Fitness Director for Interclub des Laurentides in Piedmont, Qc. and an editor for Beyond Fitness magazine. Take the guesswork out of training intensity. This session will provide an in-depth understanding of heart rate training. Calculate your own maximal heart rate and riding zone. Intensities will be monitored throughout the ride. Teach your students the importance of monitoring their heart rate to achieve their full potential in fitness or athletic objectives. Our heart tells us how much recovery we need – in between intervals and also in between workouts for optimal recovery. Numerous other benefits will be examined in this session. The simplest and most continuous way to monitor heart rate is through the use of a heart rate monitor. Heart rate monitors are recommended for this session.
Note : good workout. learned some stuff that I'll be able to carry over to my cardio training.
50 mins / 596 calories / 35% fat / AveHR 132 80% / MaxHR 158 95% / 37 mins inZone
12 h 15 to 13 h 15 LUNCH BREAK free 4 mins massage.. feels great.
13 h 15 to 14 h 30 903 — Hip Hop Vs Sexifit

— HIP-HOP & SEXIFIT


Jennifer Pelletier et Julie Le Gruiec Both B.Sc Kinésiologie Hip Hop and Sexifit are classes that can be really similar since lots of hip hop moves are very sensual. However, when those two classes are offered in the same establishment, they have to be different. Jennifer and Julie will teach a pure hiphop style choreography followed by a Sexifit choreography with a different flavor. This session will give you some new and original ideas for both classes in the same workshop.
Note : high level but fun. I like both Hip Hop and Sexifit
1h03 mins / 637 calories / 50% fat / AveHR 120 72% / MaxHR 141 85% / 23 mins inZone
14 h 45 to 16 h 00 1002 — Latin Heat — DANCE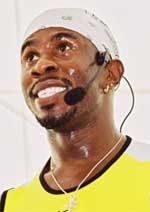 Clay Grant US National Aerobic Championship: earning Silver and Bronze Medals at the National Finals. Latin Heat is pretty much exactly what its title implies : Muy caliente ! Like a tantalizing latin meal that mixes special herbs and spices, for this session we mix delectable movements and rhythms. Using the proper ingredients, this workshop is designed to heat up a spicy mix of Latin based dance moves, grooves, beats and of course heat. With this mix, you are certain to experience a dance workout that is pure fun and high energy. Ay caramba !
Note : I was registered for Hard work conditionning, but they switched rooms and I ended up here by mistake. It was Way over my head! Like I'm level 1 and this was level 4 or 5. but fun..and I would have never dared register for this class LOL Amélie Martin saw me for a little while and on Monday said "Tu étais vraiment bonne" (but of course, she meant at my level.
53mins / 556 calories / 45% fat / AveHR 124 75% / MaxHR 140 84% / 25 mins inZone

9h00 PM SALSA ~ PRACTICE AT HOME
10 mins Just a few minutes to review what we did.. Man it seems so easy compared to this afternoon's dance class!

MONDAY, August 25th 2008
4h30 PM BUNS OF STEEL ~ GROUP FITNESS with Amélie Martin
58 mins+ / AveHR 121 73% / MaxHR 163 98% / 639 cals / 40 % fat / 28 mins InZone (75%+)
8h15 PM SALSA ~ PRACTICE AT HOME
25 mins good revision and correct some stuff, but we're both tired so do it at moderate speed
BED AT 10h30 PM

TUESDAY, August 26th 2008
Huge day at work.
8h15 PM SALSA DANCE CLASS at Le Sodanse
70 mins Glissade alternées sans glissade! LOL & Côte à côte alternées
Last Salsa class. We really need to film ourselves doing what we learned this summer. That'll help with the notes we took.
Regular Ballroom dance classes start on Sunday, September 7th, 2008, 11h30 am
but since the classes in Granby were cancelled, I'm back to the first place that I got info from, further from where I live, but maybe more suited to what I want. I hope to start :
...Lady's Styling with Karine...
at Passion Salsa in Boucherville, on Sunday, September 7th, 2008, 5h00 pm
"The workshops of Lady's Styling awake the "Salsera" which sleeps in every woman either in their body movements, their sensuality and their attitude when they dance. It is a course of female expression in which we work on the posture, the hands movements, the body isolation, the sets of feet, how to listen to a partner, the style, the attitude, etc, in order to correct the small errors and to improve the style in salsa."
...Salsa Sexy, par Karine...
"Je débuterai sous peu un programme de salsa uniquement pour femme!
Ce sera un mélange d'entraînement aérobique, musculaire et cours de salsa.
Ce sera un cours où vous apprendrai comment bouger chaque parties du corps.
Je vous apprendrai comment bouger, comment avoir une belle posture et comment être plus féminine dans la danse.
Pour les gens qui n'ont aucune base en salsa:
C'est un cours parfait pour celle qui n'ont jamais pris de cours de danse dû au manque de partenaire. Vous vous mettez en forme en apprenant une des danses les plus populaires du moment et des plus amusantes. Découvrez votre féminité et votre sensualité! C'est un excellent moyen de vous tenir en forme. Vous attendrai le prochain cours avec impatience!
Pour les gens qui ont déjà une base dans la salsa:
Vous avez atteint un plateau avec vos cours de groupe?? Voici la prochaine étape. Les gars peuvent vous guider, mais ensuite, vous devez pouvoir bouger...les hanches, les épaules, la cage, le torse, les bras, les mains, les doigts, les pieds. Apprenez des mouvements que vous pourrai incorporer facilement dans votre danse."
BED AT 11h15 PM

WENESDAY, August 27th 2008
4h36 PM CARDIO MILITAIRE level 2 ~ GROUP FITNESS with Amélie Martin
52 mins+ / AveHR 135 81% / MaxHR 161 97% / 637 cals / 35 % fat / 38 mins InZone (75%+)
Main course : 10 supersets of Alternating cardio and weights exercises done 2-4-6-8 times each.
5h34 PM BUNS OF STEEL ~ GROUP FITNESS with Amélie Martin
56 mins+ / AveHR 112 67% / MaxHR 201 121% / 472 cals / 50 % fat / 13 mins InZone (75%+)
Some new exercises that Karine showed Amélie from the Fitness Convention last weeked. Amélie said these were hard classes. I thought it was just me
planned BED AT 10h30 PM

THURSDAY, August 28th 2008
DAY OFF need to recover from yesterday's WO
8h00 PM SALSA ~ PRACTICE AT HOME
15 mins Film our practice, but just as a trial, we'll do it again when we're less tired.
8h15 BALLROOM DANCE practice at home
30 mins Revision of ChaCha on my Dance Page
BED AT 10h30 PM

FRIDAY, August 29th 2008
DAY OFF Very tired from big week at work
9h30 PM SALSA ~ PRACTICE AT HOME
20 mins we start too late..
BED AT 10h30 PM


SUNDAY, August 30th 2008
DAY OFF
4 am to 9am : Indigestion from yeserday's party, ate all kinds of stuff mixed up. my fault.
Visit Manouane at new apartement, we bring the lunch, and then supper with them and Albi
BED AT midnight

MONDAY, September 1st 2008
4h30 PM BUNS OF STEEL ~ GROUP FITNESS with Amélie Martin
33 mins+ / AveHR 132 80% / MaxHR 166 100% / 393 cals / 35 % fat / 21 mins InZone (75%+)
23 mins+ / AveHR 110 66% / MaxHR 139 84% / 200 cals / 55 % fat / 4 mins InZone (75%+)
planned 8h15 PM SALSA ~ PRACTICE AT HOME
60 mins Gaby worked too tired, and with all he did, I sure understand
BED AT 10h30 PM

TUESDAY, September 2nd 2008
WEEK OFF Between sessions
8h10 PM SALSA ~ PRACTICE AT HOME
60 mins Salsa, Chacha and Rumba
BED AT 10h30 PM

WENDESDAY, September 3rd 2008
WEEK OFF Between sessions
9h10 PM SALSA ~ STUDY AT HOME
60 mins Revision of my dance page
BED AT 10h30 PM