Hello Friends and Strangers,
Third Update.. I'm getting the hang of things! And that goes for my updates, my web log and the gym. (ok.. not for the diet departement.. but that's another story) Anyways, I think I can really say that I'm doing mostly free weights now. *proud* and I like the feel of handling the iron. However, I did hurt my back a few days ago.. so it's weird putting up this UPDATE now.. but I'm optimiste it will be better soon and I'll be back to my regular schedule in no time.

April 2nd 2006
WEEKLY TIMETABLE
This is what it looks like these days

PROGRAM # 6
CARDIO
Going great. I shifted the Thursday cardio to Saturday after the WO.. it's not easy.. but very rewarding, I was already doing them one after the other on Wednesdays but the reason I dared to doing it on Saturdays as well is this quote :
Besides.. It gives me Thursdsays off to work in the garden or go road cycling.

FLEXABILITY
I was pleasantly surprised a couple of times at my flexability, but I still have a long way to go to be anywhere near where I was long ago.. I don't even think I'll ever get ther after having stopped for so long.. but I'm doing what I can with PNF stretching when I have the energy for it.

WINTER HIKING
Started doing 4-5 hour hikes again since the weather is warmer. Usually I'm not in shape for those before June.. This is great. Specially since I'm not even maxed out at the end of them.
OTHER STUFF
We still have the ballroom dance classes so we still practice a few times a week and go dancing in Montréal maybe twice a month at the Do-Ré-Mi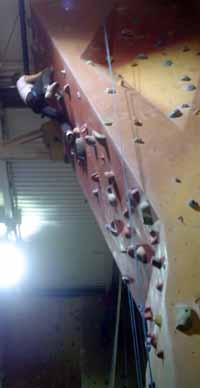 and just April 1st we had reservations for a 90 mins initiation to indoor climbing at HORIZON ROC . My back was still stiff with a "pinch" on the right side just below the waist, my right elbow is still weak from my tennis elbow, and my shoulder still has problems in some directions, but well.. I played a practical joke (It was April 1st) on all three of them, took a Tylenol for muscle aches and pretended I was ok. And it worked out fine! This will NOT teach me to "rest" the next time I hurt myself.. since it hurt me LESS to climb than to sit in front of the PC

ACHES AND PAINS
LEFT SHOULDER :
It's been almost 6 weeks since I started doing the exercises religiously and it's really going well! I've switched from Physiotherapy to Massotherapy for 3 sessions (last one this coming Tuesday) There are still some movements I have trouble doing .. and I'm working on them.. but in a more relaxed fashoin.
GENERAL HEALTH
I have a dentiste appointement for May 3rd.. need it..
DIET
I really can't sum up my month.. It's going real bad. so I'll just give highlights..
March 19th.. 8 pm I thought I was back on track.. but I'm not.. and I just can't find the courage inside me to get at it. and the worst is.. I think I don't care.. no one is going to like me more, nor less, if my weight changes.. and that's what I want, people to like me and to have freinds.. so I don't know.. right now.. I don't care.and yes.. this is pathetic On the good side.. humm ? I don't know.
March 26th.. was going better for a few days.. but lost it last night again. I really need someone to support me.. I can't do this alone. I'm asking for help on a forum with a support group for Weight Maintenance..
March 28th.. I decide to log everything I eat after 9 pm.
March 30th.. on my back all day but I stuff myself real bad..
WHAT'S AHEAD
Starting April 10th the I want to add Cardio-Tae-Boxe with Amélie.. right after the Buns of Steel on Mondays... should be VERY interesting.. And also maybe the Yoga class that's just after mainly to get some stretching.. but I'll just try it at first to see how it feels to do 3 hours in a row.
With the xc-ski season over.. I'm starting to do HIITs again this week. But no 15secs-90secs one for now. I want to concentrate on the 1 min - 2 mins and on the 3 mins - 3 mins HIITs which I think are the most suitable for hiking. I'm also thinking of wearing a backpack with some weights in it, while doing the cardio.
I plan to do my Program#6 WO for a total of 8 weeks, that will take me to mid may.. and then do a program specifically for hiking/backpacking until mid July when I hope we'll go on a hiking vacation and do some serious stuff.
SHORT TERM GOALS
My bad day of stuffing myself during the first day at home with my back ache made me realise that I HAVE to put my efforts into getting back on track with my diet. I've started a new page in my Web Log and won't log my Physio Exercises that much anymore.
Sincerely,