SUNDAY, August 26th 2007
MOUNT MANSFIELD, Vermont, USA my order #1/21 // # 5 / 111
Canyon North Trail & Subway
Halfway House Trail, Canyon North Trail then up to Long Trail to Chin, Long Trail back to Subway Loop and Sunset Ridge Down
With Gabriel
HIKING start 9h09 AM
WEIGHT OF PACSAC : 17,8 lbs
DENIVELATION 762 m. + Down and up for Subway ?? + up and down for Cantilever Rock ??
MAJOR DIFFICULTY Canyon North Trail and Subway : WOW !!
TOTAL LENGTH 12,6 km 7,85 miles
TOTAL TIME 7 h 30
TEMPERATURE : High 50s°F / 100% Humidity!!!
Blue markers lead the way up and down.. the Long Trail on top had white markers. Everything very clear.

UP Eagle Trail, CCC Road, Halfway House Trail, and almost completely ACROSS : Canyon North Trail,
2h30 mins / 1565 calories / 35% fat / AveHR 133 80% / MaxHR 159 95% / 1h45 mins inZone (75%+)
LUNCH Just a little before the Short-cut up to Long Trail
11 mins
Last Short-Cut to Long Trail to CHIN
1h29 mins / 861 calories / 40% fat / AveHR 127 76% / MaxHR 157 94% / 47 mins inZone (75%+)
The Canyon North Trail had taken everything out of me.. not physically, but emotionally. and we didn't know if the Subway would be even more difficult. Gabriel was also very willing not to do the Subway section at this time.
DOWN : Long Trail, Short-cut, Subway , ( Counter clock-wise loop )
52 mins / 501 calories / 45% fat / AveHR 126 75% / MaxHR 155 93% / 26 mins inZone (75%+)
Gabriel's suggestion to do the part we didn't do this morning, now that we knew where it ended and had done the rest of the climb. I asked someone who seemed to know the area if the Subway was more difficult than the Canyon North Trail and she said "No, except there's a little more in the "open". I later understood that to mean you fall real far if you slip.... so extreme caution is necessary.
Long Trail to Sunset Ridge Trail to Cantilever Rock, and short lunch
1H19 mins / 648 calories / 50% fat / AveHR 116 69% / MaxHR 146 87% / 11 mins inZone (75%+)

Cantilever Rock, Sunset Ridge Trail to Eagle Trail to Parking
59 mins / 406 calories / 60% fat / AveHR 105 63% / MaxHR 129 77% / 2 mins inZone (75%+)
NOTES :
1) The Canyon North Trail and Subway would have been extremely dangerous if they had been wet.
2) It's better to go UP Halfway House trail than down.
3) This is definately NOT a trail for the un-experienced
4) Round fasteners on Gaiters hurt too much and are dangerous in situations where you have to use your Knees to climb.
5) If because only a small hike is planned, you workout real hard at the gym the days before the hike, beware if you change you plans to a difficult hike
6) Wear my contact lenses...

Gabriel on the Canyon North Trail and then in Short-cut between Canyon North Trail and Long Trail.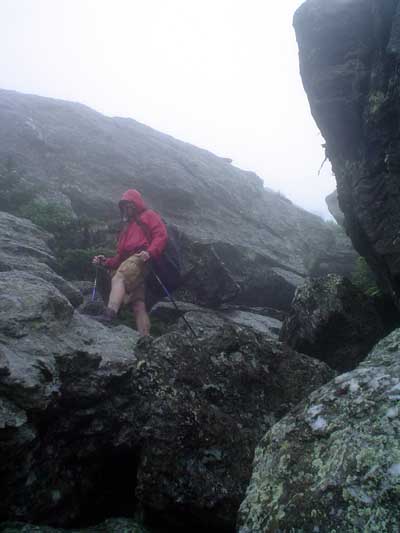 Of course we couldn't take pictures when we were in difficult situations. / Later I find out this is called Scrambling.. (not hiking)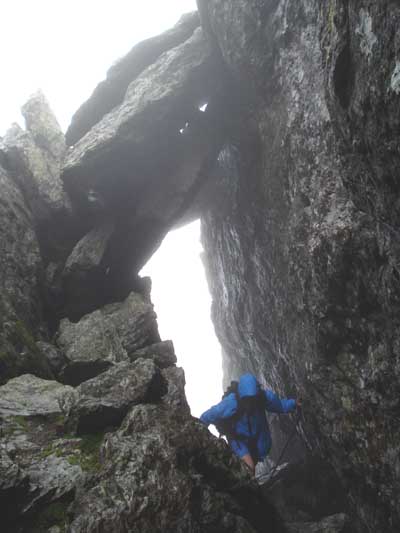 Excellent and very well deserved Restaurant in Cowansville

BED AT 1h30 PM